A warm cup of tea on a rocking chair & hearing old melodies would be a Retirement visual for many of us. Let's all check whether we are moving towards a retirement that is healthy and prosperous.
The Increasing life expectancy has given us the gift of extra time, but along with that it also poses challenges to maintain the golden years with prosperity and good health.
Without a state pension or social security forming the backbone of retirement plans, Indians have to rely on the funds which they accumulate throughout their working life.
Adding to that, the major pillar of support for the Indian Retiree is becoming weak as the traditional family-based care for the elderly is declining gradually in India
Key Takeaways
Understand what has changed the retirement landscape & what mistakes we have been doing
How to Prepare for the changing scenario
How to self-finance and secure a fulfilling and dignified retirement.
Stay healthy & Fit – the best back up for fulfilling life.
Changing Landscape leading to Redefining Retirement
Earlier Retirement life was considered as an end of life, as people did not survive for long.
Nowadays Retirement life is a transition to a new and exciting phase of life. Retirees enjoy their freedom pursuing their hobbies, traveling, and socializing. One needs to gear up for this major phase of life, with sufficient preparedness towards the financial and non-financial aspects.
Let's understand what has changed
a. We are Aging better than before – Advancements in medical science and the awareness towards a healthy lifestyle have changed a lot how people age currently. At all ages, We are indeed feeling/looking younger than the previous generations. We are expected to maintain our mobility longer than our ancestors.
b. Changes in Indian Family Structures – The elderly in India traditionally may have relied on support from their children as their retirement plan, however, this may be a financial burden that today's millennial workers may not be able to finance alongside their own family lives.
c. Changing Retirement Aspirations – Retirees now have expectations of a new fulfilling phase with a purpose. They want to see the world, pursue their hobbies, earn from their hobbies or even work part-time. Some also want to volunteer and contribute to society.
The above changes make us ponder how to move towards accumulating a self-funded retirement life which factors in all our expectations and dreams. We need to focus on achieving Financial Prosperity along with Good health.
what's wrong with the current situation
"The world as we have created it is a process of our thinking. It cannot be changed without changing our thinking."- Albert Einstein
Unless we change the current way of thinking we cant modify the future – look beyond the age of 60. physically emotionally and mentally be prepared for a longer inning.
We can hardly see things beyond 10-15 years – Retirement age is fixed for the majority of the people but we hardly think about it when we are in the 20s or 30s as it seems too far to plan. Young investors can benefit most by investing regularly in a disciplined manner and benefit from compounding as they have more time in hand to achieve their goals
We start thinking about it in midlife where we already have lot of pressures – Growing Children, Ageing Parents
How to prepare for the changing landscape.
Be prepared – don't run out of Money in Retirement
Only 13% in India are saving actively for their retirement as per the Report of the Household Finance Committee 2017, RBI (image 1), despite the fact that only 24.1% of the population is covered by Pension coverage in India compared to 99.5% in UK and 92.5% in USA.
The Interest rates in India have moved down significantly from 8.5% in 2012 to close to 4% in 2020 currently. The low-interest-rate scenario is expected to prevail for a long time as India moves from a Developing to a Developed economy.
Follow the below steps to ascertain how much would be enough for your comfortable Retirement :
A. Have a Written Plan

A Retirement Plan will help you ascertain how much investment you should make every month/year for the Retirement Corpus. It will help you understand how much wealth you need for comfortable retirement & how to achieve it. Following is an example of the same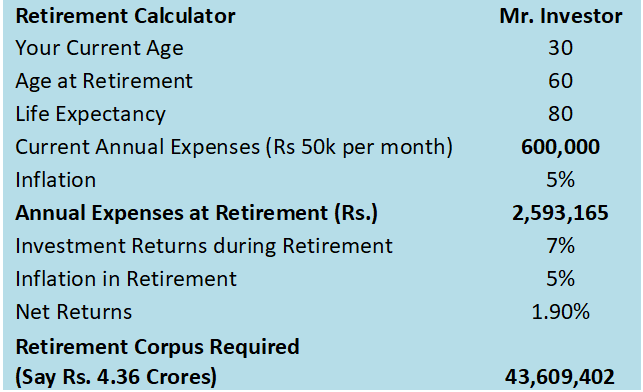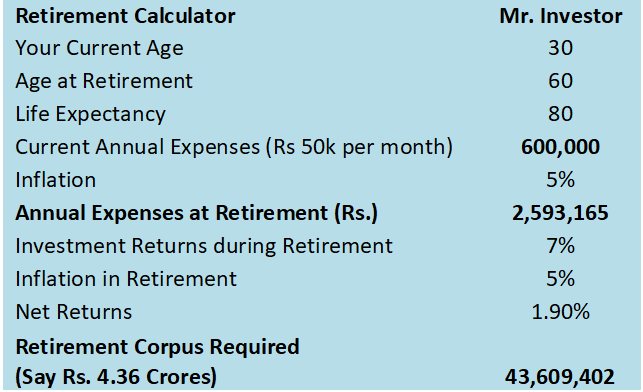 While working on the above we have considered Inflation at 5% which is the long term average for the Indian Economy.
Inflation is the greatest wealth destructor, so never underestimate its importance while making your financial plans
B. Start Early and save enough
Once you have the figures in mind, start immediately. Don't delay investment for this goal. You can start with the amount you are comfortable saving and investing every month and keep on increasing it with time. The concept of Step-up SIP can help you with it, the concept is gaining popularity lately.
The benefits of starting early are known to all, even a year of delay can cost a lot of damage. Have a look at examples below: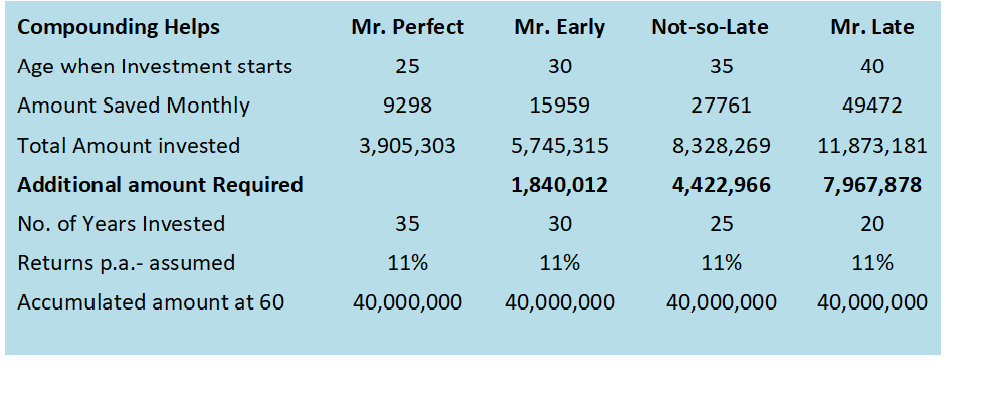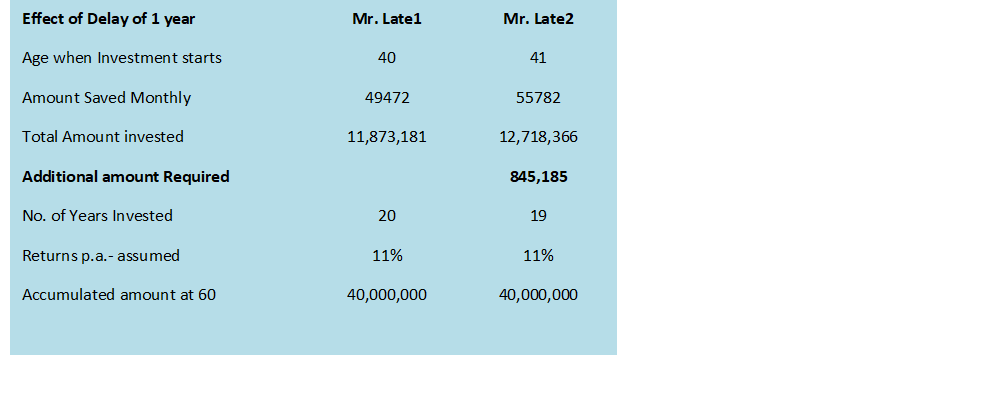 C. Set aside funds for all other Responsibilities
D. Have a back up for emergencies
E. Don't dip into your retirement corpus for unplanned expenditure
F. Invest more than is required
G. Tips for Investors who are late for planning
Stay healthy and fit – Physically as well as mentally
The Best backup plan for active retirement is to stay healthy and fit.
A. Walk more – Walking is considered on the best excercise. According to a study an individual walking more than 7k steps daily lives 5 more healthy years
B. Take care of your cognitive health – being active also includes giving right activity to your brain
c. Have a balanced diet & learn more about nutrition
Adapt to life long learning
Make yourself useful at all times. Be technology-savvy, keep yourselves abreast about the latest developments in the world and specifically the ones of your interest. If you keep pace with the developments you may not retire at your retirement age, as you would be ahead of others in your age group.
Longevity and weak support structure for the Indian Elderly have forced us to think about living a life that is self-sustaining and prosperous.